The B'K is a quarterly art and lit, online and printed magazine prioritizing traditionally marginalized creators, but open to all.
"We are interested in people being able to decolonize their own stories and tell their own stories."

Read an interview with Chris Talbot-Heindl by Clara B. Jones in PANK Magazine
Current Issue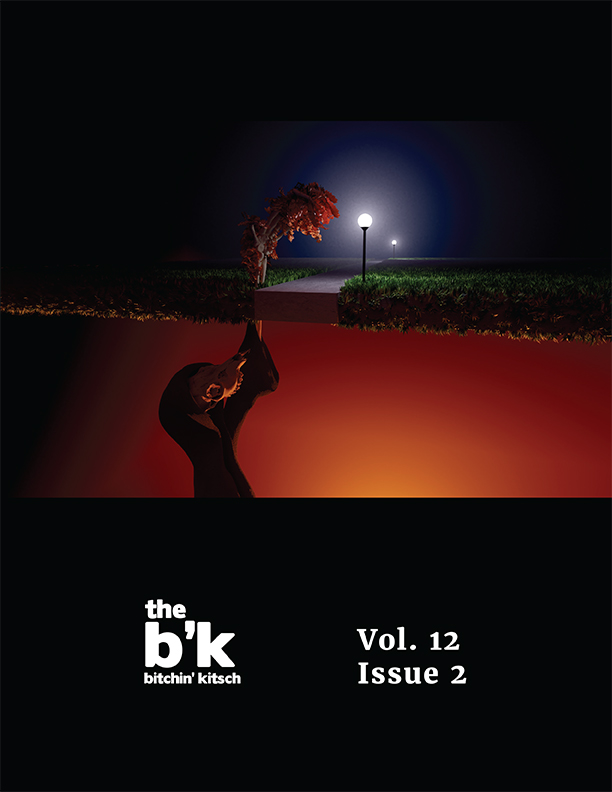 The Spring 2021 issue is ready! It's a stunning issue featuring 26 submitters, 20 of whom are new to The B'K. The issue features cover art from Dana Talbot-Heindl as well as:
Art by: Dana Talbot-Heindl, Karin Hedetniemi and Natascha Graham
Fiction by: Jamie Zaccaria, Mike Hickman, Nick Olson, Shaurya Arya-Kanojia, Yvonne Nezianya, and Zach Murphy
Non-Fiction by: Robert Fromberg
Poetry by: Adeeba Jafri, Akash A, Alex Andy Phuong, Ashley Elizabeth, Felix Reyes, gina marie bernard, Ivis Whitright, Jenica Lodde, Jenna Faccenda, Maia Joy, Naoise Gale, Ren Gay, Sanah Singh, Sebastian Hager (YouTube link with a reading of the piece by Sebastian Hager), Tejashree Murugan, and Vasundhara D.
Check out Volume 12, Issue 2 below!
Read previous issues on our archives pages:
Subscribe to The B'K emailing list
Sign up to receive a copy of The B'K directly to your email each quarter, as well as news and current competitions.
Submissions, Issues, and Subscriptions
If you would like to submit to the next issue, please follow our guidelines, which can be found on the Submissions page.
You can buy back issues of The B'K on our Shop page using PayPal. All proceeds go toward paying for our website and the paper copies that are featured at our community locations in Stevens Point, Wisconsin: Tech Lounge, LLC and The Coffee Studio; in Denver, Colorado: Denver Zine Library.
You can also support The B'K by purchasing a t-shirt, art print, or hoodie to show your love on our Society6 page or our RedBubble page.
We also have a Patreon where you can subscribe to issues of The B'K!
Land Acknowledgment
The B'K is made on the ancestral traditional lands of the Arapaho, Cheyenne, Núu-agha-tʉvʉ-pʉ̱ (Ute), and the Seven Council Fires (or Očhéthi Šakówiŋ) peoples. This area was also the site of trade, hunting, gathering, and healing of other Indigenous peoples, including the Comanche, Apache, and Shoshone. In offering this land acknowledgement, we affirm Indigenous sovereignty, history, knowledge, and experiences.