The B'K is a quarterly art and lit, online and printed magazine prioritizing traditionally marginalized creators, but open to all.
"We are interested in people being able to decolonize their own stories and tell their own stories."

Read an interview with Chris Talbot-Heindl by Clara B. Jones in PANK Magazine
Current Issue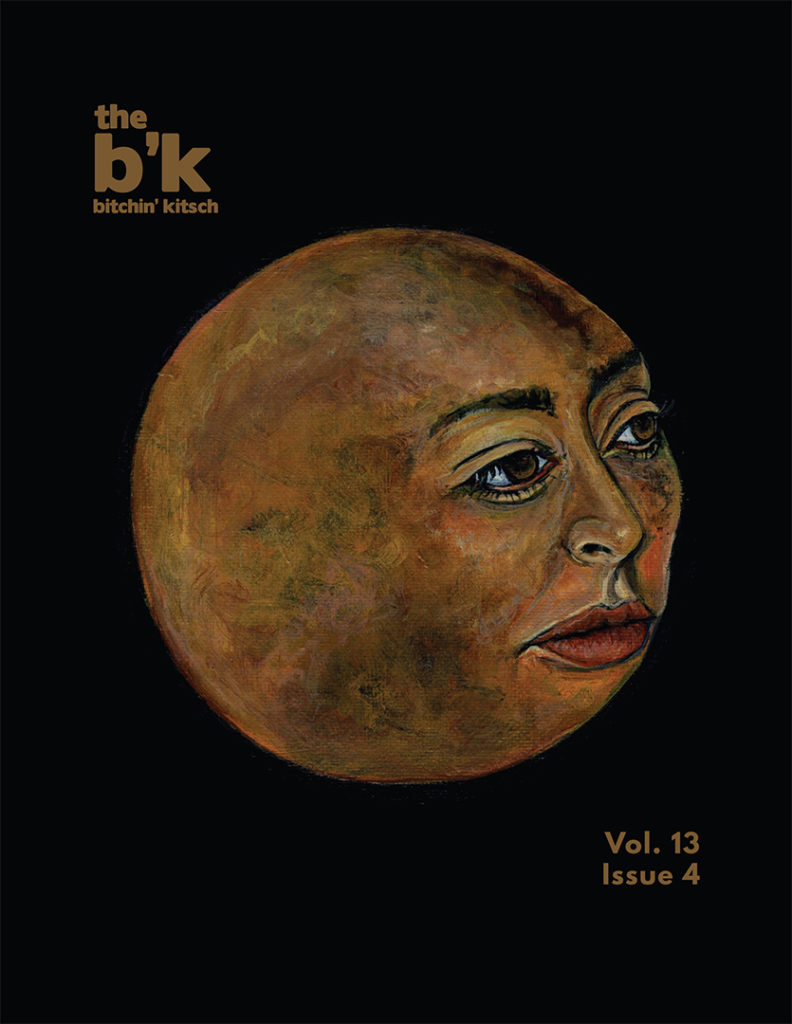 The Autumn 2022 issue is here! It's a stunning issue featuring 27 creators. The issue features:
Art by: Larissa Monique and Mark Myavec
Fiction by: Devaki Devay, Krista Bergren-Walsh, Sol Kim Cowell, Zach Murphy, and Zary Fekete
Non-fiction by: Lev Raphael and (re)becca meier
Poetry by: Aanuoluwapo Adesina, Ankit Raj Ojha, Bernice Caña, Brishti Chakraborty, Cara L McKee, Constance von Igel de Mello, Divyasri Krishnan, Felix Reyes, Julieanne Larick, lauren.napier, Maeva Wunn, Meily Tran, Priyanuj, Rahma O. Jimoh, Robin Kinzer, Shei Sanchez, Sodïq Oyèkànmí, and Susan Anmuth
Check out Volume 13, Issue 4 below!
Read previous issues on our archives pages:
Subscribe to The B'K emailing list
Sign up to receive a copy of The B'K directly to your email each quarter, as well as news and current competitions.
Submissions, Issues, and Subscriptions
If you would like to submit to the next issue, please follow our guidelines, which can be found on the Submissions page.
You can buy back issues of The B'K in our Ko-fi shop page. All proceeds go toward paying our BIPOC, gender variant, and disabled creatives; our website; and software.
You can also support The B'K by purchasing a t-shirt, art print, or hoodie to show your love on our Society6 page or our RedBubble page.
We also have a Patreon where you can subscribe to issues of The B'K!
Land Back Statement
The B'K occupies the ancestral and traditional lands of the Arapaho, Cheyenne, Núu-agha-tʉvʉ-pʉ̱ (Ute), and the Očhéthi Šakówiŋ peoples. In offering this land acknowledgment, I also acknowledge the state-sanctioned acts of genocide against the original inhabitants of this area and the challenges Indigenous communities face today as a result of colonization. I affirm Indigenous sovereignty, history, knowledge, and experiences. I also pledge to support the Land Back movement and reparations in any way that I can until such time that the land is ceded to its rightful stewards.