The B'K is a quarterly art and lit, online and printed magazine prioritizing traditionally marginalized creators, but open to all.
"We are interested in people being able to decolonize their own stories and tell their own stories."

Read an interview with Chris Talbot-Heindl by Clara B. Jones in PANK Magazine
Current Issue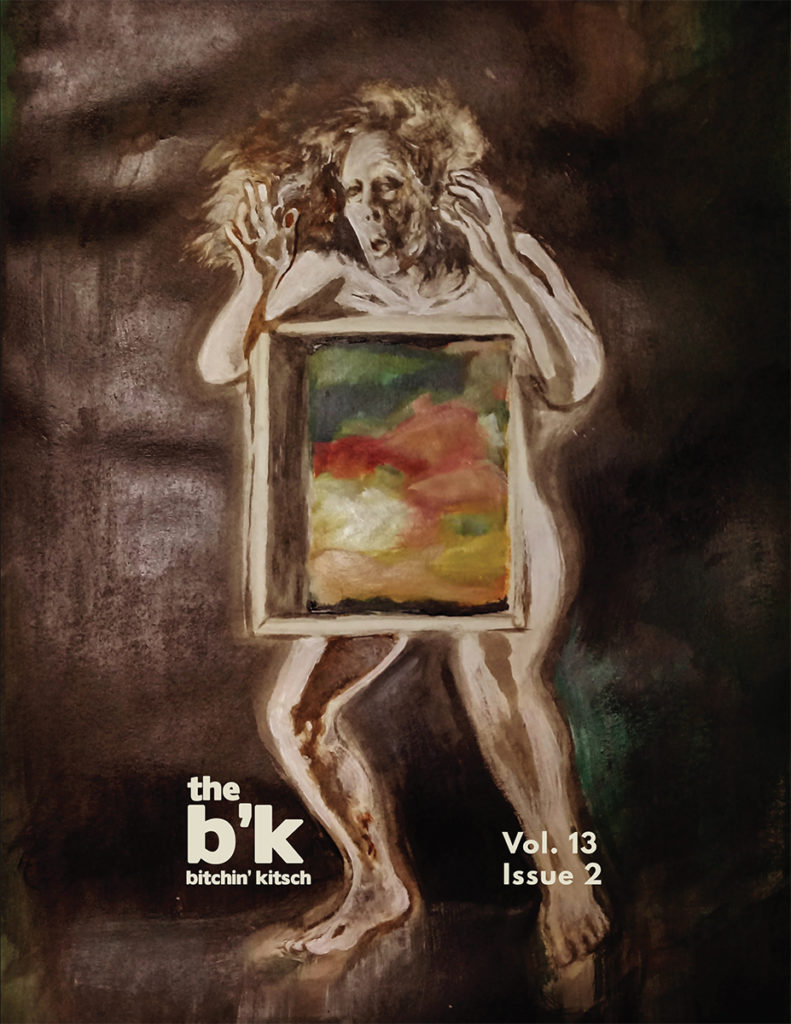 The Spring 2022 issue is ready! It's a stunning issue featuring 22 creators, 19 of whom are new to The B'K. The issue features cover art from Aaron Hahn as well as:
Fiction by: Cat T., Mike Hickman, and Zach Murphy
Non-fiction by: Chachee Valentine, Tangela Williams-Spann, and Vee Signorelli
Poetry by: Ashley Bao, Beck Guerra Carter, ​​Clem Flowers, Gaby Benitez, Hikari Leilani Miya, Jasmine Kaur, Kristin Entler, Rachel Alarcio, Raina K. Puels, Sher Ting, Shufei Ewe, sloane angelou, Syna Majumder, Tanner Armatis, and Will Arthur Spiller
Check out Volume 13, Issue 2 below!
Read previous issues on our archives pages:
Subscribe to The B'K emailing list
Sign up to receive a copy of The B'K directly to your email each quarter, as well as news and current competitions.
Submissions, Issues, and Subscriptions
If you would like to submit to the next issue, please follow our guidelines, which can be found on the Submissions page.
You can buy back issues of The B'K on our Shop page using PayPal. All proceeds go toward paying for our website and the paper copies that are featured at our community locations in Stevens Point, Wisconsin: Tech Lounge, LLC and The Coffee Studio; in Denver, Colorado: Denver Zine Library.
You can also support The B'K by purchasing a t-shirt, art print, or hoodie to show your love on our Society6 page or our RedBubble page.
We also have a Patreon where you can subscribe to issues of The B'K!
Land Back Statement
The B'K occupies the ancestral and traditional lands of the Arapaho, Cheyenne, Núu-agha-tʉvʉ-pʉ̱ (Ute), and the Očhéthi Šakówiŋ peoples. In offering this land acknowledgment, I also acknowledge the state-sanctioned acts of genocide against the original inhabitants of this area and the challenges Indigenous communities face today as a result of colonization. I affirm Indigenous sovereignty, history, knowledge, and experiences. I also pledge to support the Land Back movement and reparations in any way that I can until such time that the land is ceded to its rightful stewards.